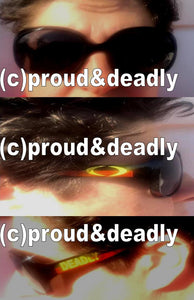 Get these pair of sunglasses.

They are POLARISED UV400. Big Lens, usually popular with ladies but men can wear them too.
They come in a material hard case-free of charge. (see second photo).

These sunglasses are UNISEX-so they suit both MALE AND FEMALE PERSONS!
They are a bigger lenses...keeps the sun right out and away from all angles!!

Don't be afraid of these lenses... they suit all shapes of faces.
On one side you will have the boomerangs.
On the other side, you will have the words "DEADLY".
This is all in the one pair of the sunglasses. 
Great price and great value!!!
HURRY BEFORE WE SELL OUT!!!
This is a licensed product. 
Exclusively sold through our store, ready to be dispatched from our Sydney warehouse. 
Please see our postage page for further information.
Or contact us by email: greatestbargain@hotmail.com