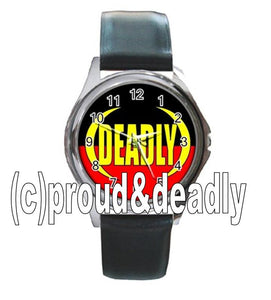 Get this great watch.
It is a unisex watch so men and ladies can wear it.
THE WATCH CASING MEASURES APPROX. 1 1/2" in diameter
WATCH BAND FITS MOST WRISTS FROM APPROX. 6 1/2" to 8"
THE WATCH BAND IS GENUINE LEATHER
STAINLESS STEEL BACK
MIYOTA WATCH MOVEMENT MADE BY CITIZEN
THE BATTERY FOR THE WATCH IS INCLUDED
IDEAL GIFT ITEM
This watch is made when we have received an order.
This watch may take 2 weeks to be delivered to you.
Great price, great value and EXCELLENT QUALITY!!!
EXCLUSIVE Merchandise. 
ALL RIGHTS RESERVED.
Please see our postage page for further information.
Or contact us by email: greatestbargain@hotmail.com