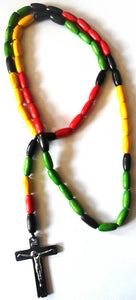 Get this Rasta coloured Rosary with a cross
It is gorgeous.
Great gift!!
These are made, taking into consideration people with larger necks.
Great for your home- put it on the wall, around your neck, hang from your car mirror or anywhere you like.
Check out the rest of our e-bay store!!
Exclusive stock. 
Please see our postage page for further information.
Or contact us by email: greatestbargain@hotmail.com